This event has already occurred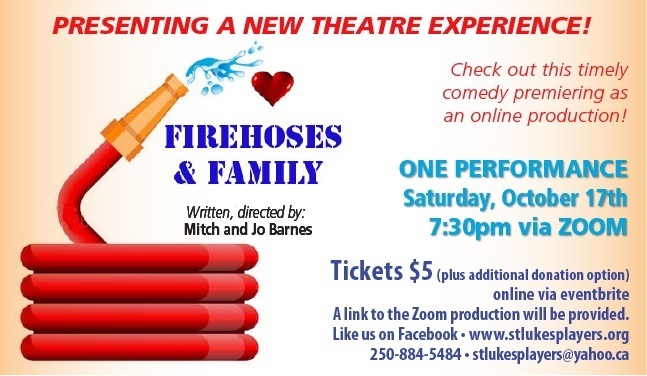 Save to your Calendar
Mitch and Jo Barnes have written a comedy, Firehoses and Family, and have generously offered it as an online fundraiser for St. Luke's Players. We are doubly fortunate because, although an online production is new to St. Luke's Players, Mitch and Jo have lots of experience.
Firehoses and Family:
Synopsis: The Stanton family has a wedding going on and timing is everything. The parents haven't yet met the bride and the younger son has decided to reveal an intense secret. Mom is anxious about everything. Dad is so distracted that he is not terribly reliable. How is this going to work out? Join us for some laughs and tears, joy and fears.
Date: Saturday, October 17th starting at 7:30
Place: A Zoom production in the comfort of your own home
Tickets: $5 (which includes the Eventbrite fee), with an option to make a donation when you buy your ticket. To find the event, either Google Eventbrite Victoria BC Firehoses and Family or click here.
On the night of the performance, access your ticket and follow the instructions on the screen. You may have to download the Zoom app so try to start a few minutes early.
All subscribers will be admitted simultaneously to the show at 7:30 pm
Only the actors will be visible on the screen. Your computer's microphone and camera will not be accessed.
You will receive email reminders before the show.