Children's Ministry
Children's Ministry
Children's Ministry
Children ages 4 to 12.
Children's Ministry
Jesus said, "Let the little children come to me, and don't prevent them. For of such is the Kingdom of Heaven." And he put his hands on their heads and blessed them before he left. -Matt 19:14-15
Here at St. George's we highly value having kids as part of our worship and church community. We want your children to feel at home both in the church building and with the people who fill its walls.
We also aim to help children understand God's love on a level that makes sense to them! We have Sunday School every Sunday throughout the year at our 10am service. Kids between the ages of 4 and 11 are welcome to attend.
We also have a Nursery open year-round with two dedicated workers who will look after and entertain any children under the age of 4 during the 10am service.
There is no need to register, just show up on a Sunday morning and we will gather your information.
For more information about our children's programming:
CLICK: The FAQ tab found on the left hand side of this page.
EMAIL: Request a copy of our monthly Family Life email update to get sent directly to your inbox.
BROWSE: Check out the WHAT'S ON section of our website.
Available Files to Download
To download, right-click the file and select "Save link as".
We would love to hear from you! Complete the form below to contact our Family Life Coordinator.
News
---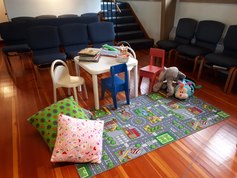 Engaging our young people and helping them to grow up with God is an important part of how we, as a community, proclaim the love of God to all people. We want our children and youth to feel welcomed, safe, and... Read More