Wonderful Wednesdays - Session 2
Wonderful Wednesdays - Session 2
Wednesday, March 14, 2018

Important: This event has already occurred.

9:30AM - 11:00AM
In the Church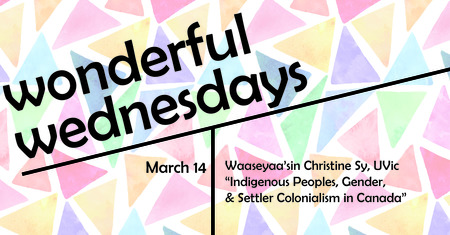 "…there is no longer male and female, for you are one in Christ Jesus." (Galatians 3:26-28)
The love of God calls us to have "eyes to see" and "ears to hear" that the divisions and differences of this world are not essential, for all of us are children of God. Many of us grew up in a world that understood gender to be essential and to consist of a clear and simple binary. Some of us struggle to understand the language of identities like transgender, non-binary, and two-spirit that carry us beyond these categories. Yet all around us individuals who identify in these ways are crying out to be loved as they are. This season's Wonderful Wednesday series helps us to live into the question: how does our faith working through love call us to respond?
The second session is called:
Indigenous Peoples, Gender, & Settler Colonialism in Canada
Waaseyaa'sin Christine Sy, UVic Professor in Gender Studies, will be at Wonderful Wednesdays to present an overview of the diverse, Indigenous conceptions of gender, and the impact of European/settler conceptions of gender on Indigenous communities. By speaking to the endurance of Indigenous peoples and the current regeneration of Indigenous gender diversity,Christine's talk is especially important for us as we seek to acknowledge colonial impacts and live into truth and reconciliation.
Waaseyaa'sin Christine Sy is Ojibway Anishinaabe of mixed ancestry from Bawatig (Sault Ste. Marie, ON). Formerly a counsellor for Indigenous and non-Indigenous youth in conflict with Canadian law, in 2016 she joined the UVic faculty as a Lecturer in Gender Studies. She is also currently working on her PhD in Indigenous Studies through Trent University; her thesis explores Anishinaabe womyn's economic governance of the sugar bush in the Great Lakes Region, in the production of maple sugar, through a queer, indigenous materialist, feminist lens.
Wonderful Wednesdays is an educational forum that welcomes a wide community. Lecturers and facilitators present a two or three session series. The program draws together diverse perspectives on various subjects. Admission by donation.
9:30 am People arrive for coffee and sweets.
10-11:30 am The presentation & discussion with a mid-point coffee break.

Bring your friends for a stimulating mid-week morning.
Ministry Learn and Study
Return to Events
---