Wonderful Wednesdays - Session 3
Wonderful Wednesdays - Session 3
Wednesday, March 21, 2018
9:30PM - 11:00PM
In the Church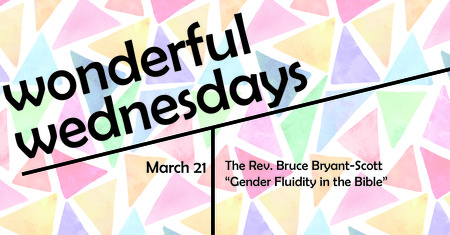 "…there is no longer male and female, for you are one in Christ Jesus." (Galatians 3:26-28)
The love of God calls us to have "eyes to see" and "ears to hear" that the divisions and differences of this world are not essential, for all of us are children of God. Many of us grew up in a world that understood gender to be essential and to consist of a clear and simple binary. Some of us struggle to understand the language of identities like transgender, non-binary, and two-spirit that carry us beyond these categories. Yet all around us individuals who identify in these ways are crying out to be loved as they are. This season's Wonderful Wednesday series helps us to live into the question: how does our faith working through love call us to respond?
The last session is called:
The Spirit of God Moved Upon the Face of the Waters: Gender Fluidity in the Christian Bible
Bruce is well known to the people of St. George's as the husband of Frances Bryant-Scott. As the former Executive Officer & Archdeacon of the Diocese he was a frequent Sunday preacher and presider in the parish. He is currently the interim priest-in-charge at St. Dunstan's, Gordon Head. He is almost finished writing the dissertation of a part-time, distance, dissertation-only PhD at the University of London and hopes to defend it in the Fall; the topic is on the theological legacy of the "Indian Residential Schools," and is entitled "Unsettling Theology."
In his Wonderful Wednesdays presentation, entitled "The Spirit of God Moved Upon the Face of the Waters: Gender Fluidity in the Christian Bible," Bruce will discuss the Christian Bible, with its Old and New Testaments, and how it is typically read from the perspective of the gender binary of male and female. Is this the only way to read it? Is gender fluidity there in the text? Bruce will consider the impact of "Queer Theory" on contemporary biblical studies and the challenges it has for conventional thinking.
Wonderful Wednesdays is an educational forum that welcomes a wide community. Lecturers and facilitators present a two or three session series. The program draws together diverse perspectives on various subjects. Admission by donation.
9:30 am People arrive for coffee and sweets.
10-11:30 am The presentation & discussion with a mid-point coffee break.

Bring your friends for a stimulating mid-week morning.
Ministry Learn and Study
Return to Events
---