40 days, 40acts
40 days, 40acts
February 9, 2018

Tara Saracuse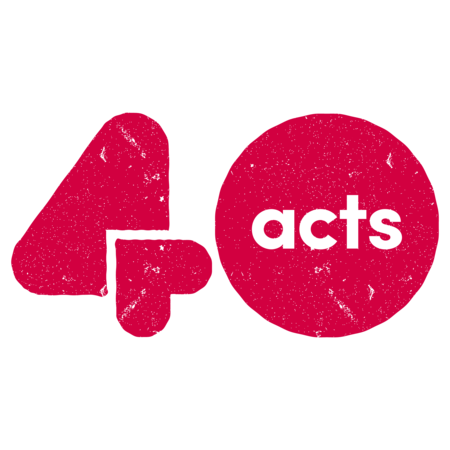 This Lent, St. George's invites you to join in the 40acts Program, which calls us to intentional generosity during the period of Lent. Each day, we will be invited into an act of generosity. For seven years, 40acts has asked a question: what if Lent could be about more than just giving stuff up? What if it could be a time of radical generosity as well as spiritual discipline? Why generosity? Because when we truly receive God's generous love for us, we cannot help but to extend this generosity to others.
Over the years, 40acts has become a movement of over 100,000 people on a mission to impact their communities with generosity—during Lent and beyond. Whether you're intending to give up chocolate, fast food, alcohol, or the Internet, 40acts encourages you to do something generous during Lent, too. By signing up, 40activists (you!) receive a daily email throughout Lent (not including Sundays!), with a generosity challenge (an 'act') and short Bible-based reflection—if you're tech savvy enough to receive Setting Sail each week, then 40acts will be no problem for you. Each act is designed to sharpen your awareness and give you practical ways to stretch your faith as well as your generosity, with three challenge levels. Some days are about giving time, others about giving practical help, while some deal with generosity of our finances, our influence, and much more. The challenge lasts for seven weeks—it's a test of endurance and focus as much as anything else!
Sign up at: 40acts.org.uk
After you've signed up, you'll start receiving the challenge emails to your inbox starting on February 14th, 2018. We encourage you to form teams and work on challenges together. The 40acts generosity challenge can be a time to fertilize old friendships or sow new ones. To help you, St. George's has started a 40acts Facebook Group where you can share your photos, stories, challenges, and successes. This is great place to connect with other folks working on the challenges, and perhaps set up ways to work together. To join the group, search on Facebook: St. George's 40acts Challenge or click here. Join the group, and then connect and share!
You can also connect with the larger 40acts community by joining the Facebook Page: 40acts. This online community is 36,000 people strong and is a great place to see how other churches and individuals are practicing generosity. Also, you can follow the 40acts Instagram account at @40acts.
We hope you enjoy the challenge!