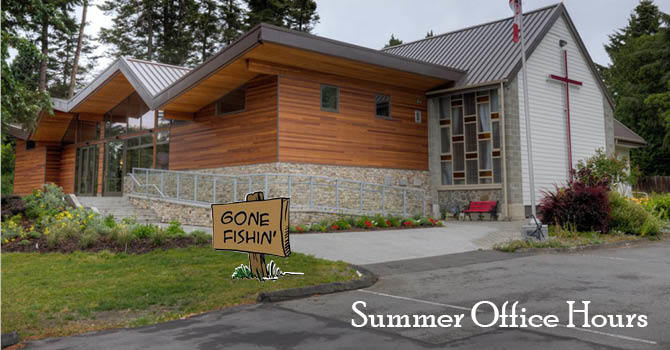 As our staff venture out on summer adventures, there will be a few changes to our regular office hours over the months of August and September. Your Parish Administrator, Tara, will be on vacation between August 17 and September 11. During this time, The Rev. Elizabeth Welch will be maintaining regular Office Hours (Tuesday-Friday, 8:30am-12pm & 1pm-4pm), except that the Office will be closed on Tuesdays, as well as Wednesday, September 5. The schedule will be as follows:
Tuesday, August 14 - Office Open, but Tara (Parish Admin.) out-of-office
Tuesday, August 21 - Office Closed
Tuesday, August 28 - Office Closed
Tuesday, September 4 - Office Closed
Wednesday, September 5 - Office Closed
While Tara is away, her email ([email protected]) will only be checked on Fridays. If you have an urgent matter, please call the Office during open hours at 250-472-2090 or email Elizabeth at [email protected] If you have items to be included in the weekly Announcements sheet or our weekly email newsletter, Setting Sail, please email them to Tara's email by the Tuesday before the Sunday you'd like the information included.
Thanks for being patient while Tara is away, and if we missed your call, please leave a message and we'll get back to you as soon as we're able.